Podcast: Play in new window | Download
Subscribe: Apple Podcasts | RSS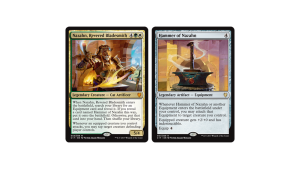 We have none other than super-artist Victor Adame Minguez on the show to talk about making fantastic art for Magic: The Gathering, including Commander cards you know and love!
Support the show! https://www.patreon.com/commanderinmtg
See our episodes on YouTube: https://www.youtube.com/c/CommanderinMTGPodcastChannel
We're on iTunes! http://bit.ly/commanderinitunes
Submit your decks to be reviewed here: https://www.facebook.com/groups/commanderindeckreviews
Our deck lists are on http://deckstats.net/decks/35612/?lng=en
Our web site is: https://commanderinmtg.com/
Commanderin' is also on Podbay: http://podbay.fm/show/998836325
And you can find us on MTGCast: http://mtgcast.com/?s=commanderin
You can find us on Twitter:
The podcast is @commanderinmtg – https://twitter.com/CommanderinMTG
Phil is @ketjak – https://twitter.com/ketjak
Sean is @copain26 – https://twitter.com/Copain26
Shivam is @ghirapurigears – https://twitter.com/ghirapurigears
Our email: [email protected]
Our Skype address is: commanderin.mtg.podcast
Our theme song was created for the podcast by Nate Burgess.
Our logo was created for the podcast by Mr Picto, with assistance from Kelle DeLuca. You can find more art from Mr Picto by going to http://mrpicto.co.uk/
Thanks to Rev En Fuego (Twitter: @revenfuego) for the primary editing work!
Special thanks to tech wizzes Jessie Thomson and Graham Frank, and to Justin for the server space.
© Copyright 2017 Tiny Shiny Squid, Inc.